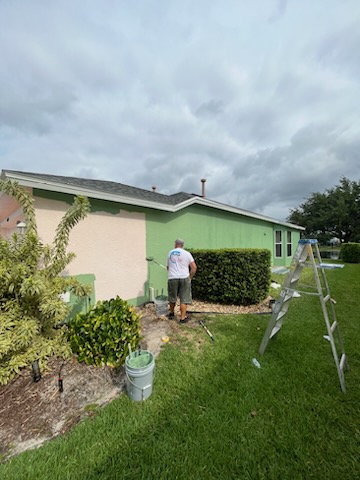 If you're fortunate enough to own a beach house in sunny Florida, you know that it's not just a property; it's a dream come true. The tranquil sound of the waves, the warm sun, and the salty breeze all contribute to the allure of beachfront living. To make the most of your slice of paradise, consider giving your Florida beach house's exterior a fresh coat of paint. In this article, we'll explore how a well-planned exterior paint job can transform your beachside retreat and offer some tips to help you get started.
1. Choose Coastal Colors
When it comes to painting your Florida beach house, your choice of colors matters. Embrace the coastal charm by selecting colors that reflect the serene beauty of the beach. Soft blues, sandy beige, and crisp whites are all popular choices that can evoke the feeling of a seaside oasis. These hues not only blend harmoniously with the natural surroundings but also help keep your home cooler by reflecting sunlight.
2. Invest in Quality Paint
Given Florida's climate, where intense sun and humidity can take a toll on exteriors, it's crucial to invest in high-quality exterior paint. Look for paint that is designed to withstand the elements, resist fading, and provide long-lasting protection. The initial investment in quality paint will pay off in the form of reduced maintenance and fewer repaints over the years.
3. Consider the Environment
Florida's beach ecosystem is delicate and beautiful, so it's essential to consider the environmental impact of your painting project. Choose eco-friendly paints that are low in volatile organic compounds (VOCs) to minimize harm to the environment. Additionally, be mindful of local regulations and restrictions regarding painting near the coast to protect the fragile ecosystems that make your beach house location so special.
4. Hire a Professional
While a DIY paint job might be tempting, especially if you're an avid DIY enthusiast, hiring a professional painter with experience in coastal environments is a wise choice. Professionals can properly prepare the surface, apply the paint evenly, and ensure that your beach house looks its best for years to come. They can also help you navigate any local permitting requirements and environmental considerations.
In conclusion, painting the exterior of your Florida beach house is a fantastic way to enhance its curb appeal and protect it from the coastal elements. With the right colors, quality paint, and a professional touch, you can transform your beachside retreat into a picture-perfect paradise that's ready to withstand the sunny skies and salty breezes for years to come. Enjoy the transformation and savor the beauty of your Florida beach house in all its coastal glory!
Visit our contact page to get our painting services.